Partners & Services

Sparx Systems Global Partners
Sparx Systems operates globally via our association of dedicated partners who not only sell Enterprise Architect, but also offer a full range of products and services to support you in your activities. The range of services includes specialist sales advice, language services to cater for regional requirements and a full range of training packages for the beginner to advanced users. Other Sparx Systems Global Partners offer services such as project management, implementation services and many other consultancy activities.

Sister Companies:
Our Sparx Systems Sister Companies are heavily involved in the ongoing development of Enterprise Architect to cater to end-users in specific regions around the globe.
Each Sister Company has performed translations of the most up to date Enterprise Architect builds as well as supporting help documentation and the Sparx Systems website.
Click here for more information...

Training Consultants:
Our Global partner training consultants offer a full range of training services to cater for various levels of knowledge. Most Training Consultants not only offer packages in how to get the most out of Enterprise Architect, but also can offer training in UML modelling as well as other domains. You can also register your interest in future training events around the globe.
Click here for more information...

Value Added Resellers (VARs):
Our VARs usually offer a collection of services available that will accentuate your ability to fully leverage the power of Enterprise Architect. Many VARs offer a variety of high-level consultancy activities including project management, implementation and business process management.
Click here for more information...

Sparx Systems Resellers:
We have over 200 resellers who operate in most countries across the globe. Our Resellers are independent businesses that will provide you with all the answers to your questions. Many Resellers are happy to demonstrate the features and benefits of Enterprise Architect, thus making your purchase decision easier.
Click here for more information...

Technology Partners:
Sparx Systems partners with leading technology vendors to tightly integrate Enterprise Architect with popular development platforms and to provide domain and role-specific extensions to the modeling environment.
Click here for more information...

Online Training
Our Online training partners offer a comprehensive suite of on-demand courses and training videos. Enjoy the flexibility and convenience of accessing training via your web browser.
Click here for more information...

Become a Partner
Apply to join our international network of Training, VAR and Reselling partners. Sparx Systems partners are endorsed providers of high quality services, and represent the best experience and expertise available around the Sparx Systems product range.
Click here to apply...
Latest News and Offers
Listed below are the latest course, offers, services and Enterprise Architect extensions from our valued partners and sister companies.


New Enterprise Architect ArchiMate Training Course from Hippo Software
This course teaches enterprise architects how to create business, application and technology viewpoint diagrams in Enterprise Architect.

Webinar "Model-driven Documentation" on 26.10.2012
Learn how to generate PDFs and entire Websites from Enterprise Architect models using modern publishing technologies such as XML, XSL, Docbook and HTML5.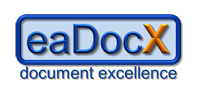 Transform your MSWord document creation from Enterprise Architect in just 2 clicks
Print elements, attributes, reports, relationships, diagrams and matrices exactly as you want using colours, hyperlinks and much more... Free 30 day trial.


Menu Changes Version 8 to 9
Sparx Systems provides a very useful guide for a smooth transition to the latest menu arrangement. Available in German and English.


"Project Management with UML and Enterprise Architect" listed on Amazon.co.uk and .com
Due to worldwide demand Sparx Systems Central Europe has translated its courseware into English. Customers in UK and North America can now easily order online via Amazon.