| Documentation | Description |
| --- | --- |
| eaDocX document excellence | eaDocX™ is the agile Word and Excel document creation extension for Enterprise Architect, making it simple to create high quality business ready documents. |
| eaDocX document collaboration | eaDocX™ is the agile document creation and collaboration extension for Enterprise Architect, delivering the power of EA to anyone with a web enabled device. |
| EA Connector For Confluence | EA connector for Confluence is an Enterprise Architect plugin that generates your projects documentation in Confluence. |
eaDocX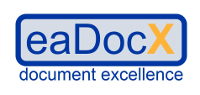 eaDocX™ is the agile Word and Excel document creation extension for Enterprise Architect, making it simple to create high quality business ready documents.
Choose what to print:

Include any EA data, all EA diagram types, all EA Project information and content from EA linked documents and Matrix reports
Mix hand written Word content alongside your EA generated content
Embed Excel ranges and charts
Project Glossary (just the terms used in this document)
Document information

Choose how to print it:

Structured by package, element type, diagram contents, model views, searches, cross references, ?
Format each element and stereotype as paragraphs or tables using Word Styles and Word table styles
Choose which attributes, TVs, relationships and related elements to include, including hyperlinks to related document content
Apply conditional formatting rules to the content
Show or Hide empty sections

Print:

Just 2 clicks to a "Quick Document"
Draft and full document generation, batch regeneration for consistent document sets
Automated document management and versioning
Standard (single user), Floating and Organisational licences available.
eaDocX™ looks after the documents, so you can focus on your model.

eaDocX™: document excellence
Take a free 30 day trial at: www.eadocx.com
eaDocX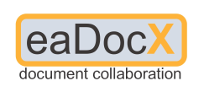 eaDocX™ is the agile document creation and collaboration extension for Enterprise Architect, delivering the power of EA to anyone with a web enabled device.
Using documents for model collaboration:
Create exactly the documents you need from your EA models, with precisely the content you want, formatted just how your stakeholders like it, through the friendly user interface
Publish documents to the web, and invite your readers to collaborate on your model through documents accessed simply through a url
Questions and Answers, votes, compliance statements and conversations about your document content, all captured and shared real-time
Everything stored in the model means fast and efficient updates and document refresh, all under author control
One licence buys as many documents and reviewers as you want
Agile Documents with eaDocX™
Engage your audience, speed up delivery and improve project quality

eaDocX™: document collaboration
Take a free 30 day trial at: www.eadocx.com
EA Connector For Confluence

EA connector for Confluence is an Enterprise Architect plugin that generates your projects documentation in Confluence. It will change the way your teams create, find and share your Enterprise Architect projects documentation. With EA connector for Confluence get a clean and updated documentation in just a few clicks, taking advantage of all the functionality and usability of Confluence. See for yourself by downloading the trial version now!
Functionality and Benefits:
Find, share and collaborate on your Enterprise Architect projects documentation. Let your teams organize and share in Confluence the documentation of your Enterprise Architect projects.
Organize your documentation as you want. You can decide which project elements and packages you want to export and how the information should be organized in your Confluence space.
Clean documentation format. We have included many expandable fields and links so it will be very easy to navigate through the information.
URL:
https://en.sparxsystems.es/plugins/eaconnectorforconfluence/