| Project Management | Description |
| --- | --- |
| EA extension for Scrum | EA extension for Scrum performs agile requirements management and project management. |
| EA TFS Connector | EA TFS Connector is a free and open source add-in that synchronizes workitems 2-way between Enterprise Architect and TFS (Microsoft Team Foundation Server) |
EA extension for Scrum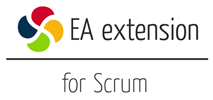 Add-In to work with Scrum, Kanban and other Agile concepts within Enterprise Architect: user stories, epics, burndown, etc…
With EA Extension for Scrum you can perform:
Agile Requirements Management: Using Scrum Technology including a set of 'Agile' elements: Stories, Epics, Technical Tasks, etc. You will estimate and assign these elements to the project team.
Agile Project Management: Using the Product Backlog, Sprint Backlogs, Kanban Diagrams, along with many automations and constraint rules.
Functionality and Benefits:
Product Backlog and Sprint Backlogs
Kanban created for each Sprint
States are updated on dragged & dropped
'Burn Up' & 'Burn Down' Charts
Straightforward set-up
And more…
Contact:
For more information: http://en.sparxsystems.es/plugins/eaextensionforscrum/
See also http://www.deiser.com/ea-extension-for-scrum/
Tel: +34 912 824 700
Emails:
info@sparxsystems.es
ventas@sparxsystems.es

EA TFS Connector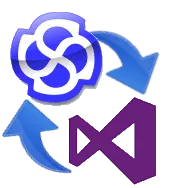 The EA TFS Connector is a free and open source add-in that synchronizes work items 2-way between Enterprise Architect and TFS (Microsoft Team Foundation Server).
Functionality and Benefits
Synchronize work items such as features, bugs and user stories to elements in Enterprise Architect
Configure the mapping between the type of work items and the type of model elements
Uses the REST API, so no local TFS or Visual Studio installation is required
Compatible with TFS version 2015
More information and download at http://bellekens.com/ea-tfs-connector