Upcoming Webinar — March 2017
Introduction to Tools & Techniques for BABOK® Guide v3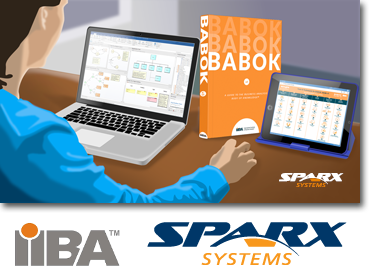 The Ultimate BA's Toolkit
The BABOK Guide v3 has long been acknowledged as the authoritative source of knowledge and practices for business analysis.
This webinar will introduce you to the Enterprise Architect Tools and Techniques for the BABOK Guide v3. Learn how to tackle common business analysis challenges, using real world Enterprise Architect examples in conjunction with the BABOK Guide v3.
You'll see why Enterprise Architect has become the essential tool for business analysts, as you learn how to interpret, model and apply the Body of Knowledge in new and innovative ways.
Presented by Scott Hebbard from Sparx Systems and facilitated by author, mentor and speaker, Kupe Kupersmith.
In this Webinar, you'll learn how to:
Leverage practical examples, sample Enterprise Architect models and visual documentation,
Apply Enterprise Architect modeling tools to BABOK Guide v3 techniques,
Rapidly model agile solutions based on proven BABOK Guide v3 techniques, guidelines and knowledge.
Session Times
Los Angeles
1 PM,
Thu
Mar
30
New York
4 PM,
Thu
Mar
30
London
9 PM,
Thu
Mar
30
Paris
10 PM,
Thu
Mar
30
Tokyo
5 AM,
Fri
Mar
31
Melbourne
7 AM,
Fri
Mar
31