Generate a Business Rules Model
The Business Rules Model captures:
The rules that apply to a business process
The business tasks or objects that the rules take effect on, and
The actual processing that takes place to apply the rules and produce a decision or result
As a very useful starting point in setting up your Business Rules model, you can generate the model structure and initial components using the Enterprise Architect Model Wizard.
Access
Use any of the methods outlined here to open the Model Wizard window.
| | |
| --- | --- |
| Ribbon | Design > Package > Insert > Insert using Model Wizard |
| Context Menu | Right-click on Package or Model Root node | Add a New Model using Wizard |
| Keyboard Shortcuts | Ctrl+Shift+M |
| Other | Project Browser caption bar menu | New Model from Pattern |
Generate Business Rules Model from Model Wizard
Step

Action

See also

1

Select the 'Model Patterns' tab.

2

In the 'Technology' panel, click on 'Business'.

3

In the 'Name' panel, select the checkbox next to the 'Business Rule Model' icon.

4

Click on the OK button.

A Business Rules Model structure is generated in the Project Browser, as shown.
Example Diagram
This Business Rules Model diagram was generated at the top level of the model and encapsulates the components of the Business Rules model.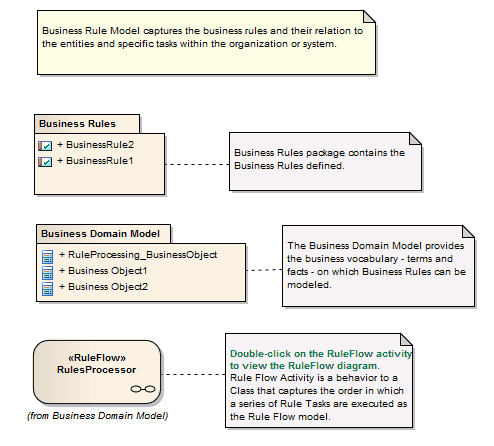 Notes
Business Rule Modeling is available in the Unified edition and the Ultimate edition of Enterprise Architect
To see an example of a Business Rules model, open the EAExample model provided with the installer, and expand:

Example Model > Analysis and Business Modeling > Business Domain Model > Business Rule Model > Business Domain Model      and > Defining Business Rules
Learn more