Install the Trial Edition
This topic briefly describes how to install the Enterprise Architect Trial Edition, a free, fully-functional application that enables you to explore the user interface and facilities of Enterprise Architect for a 30 day period, in the configuration of whichever editions of the registered software you want to try out. You can - on application to Sparx Sales - extend the trial period for an additional 30 or even 60 days.
The installation procedure described here is generic. For system requirements and information relevant to particular operating systems, see the Enterprise Architect Help topic Installation (Product Information >  Ordering and Installation > Installation).
Installation Procedure
Download the latest installer for the Trial edition from the Sparx Systems web site.
When the download is complete, double-click on the installer file to begin the installation. The installer will guide you through the installation process.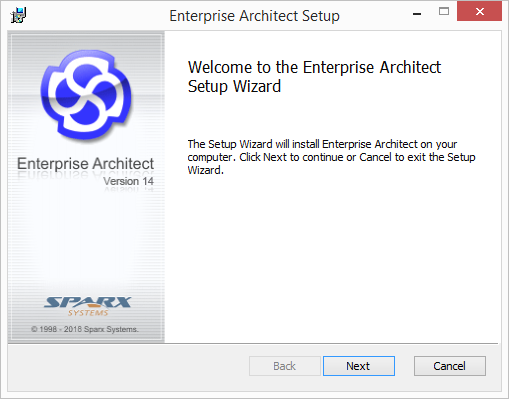 Click on the Next button.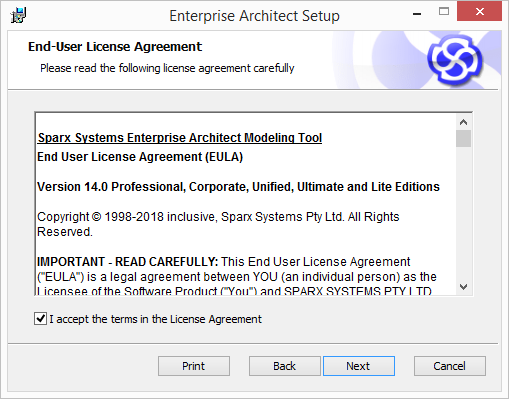 Read the License Agreement, click on the 'I accept the terms in the License Agreement' checkbox and click on the Next button.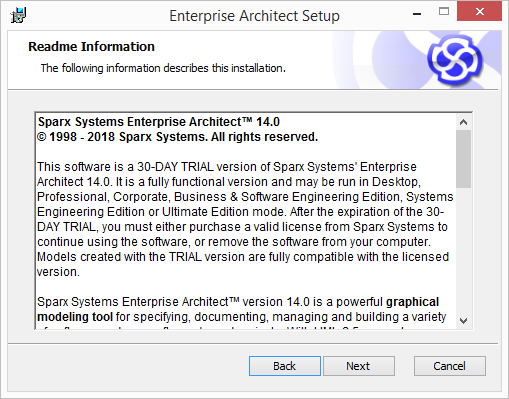 Read the 'Readme Information' and click on the Next button.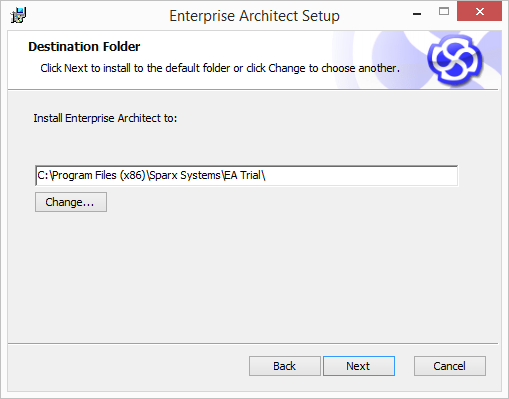 Click on the Next button to install the Trial edition to the default location.
If you need to install to a special location, click on the Change button and provide a different path, click on the OK button and then on the Next button.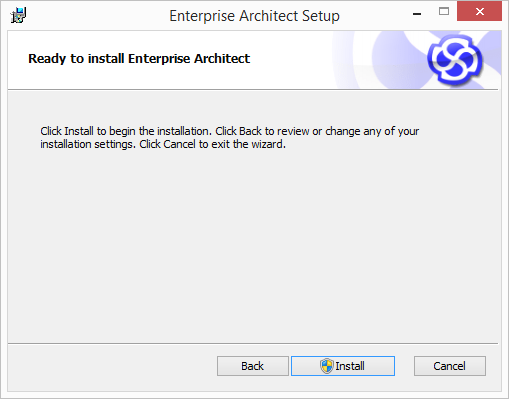 Click on the Install button, and observe the Progress bar fill as Enterprise Architect is installed.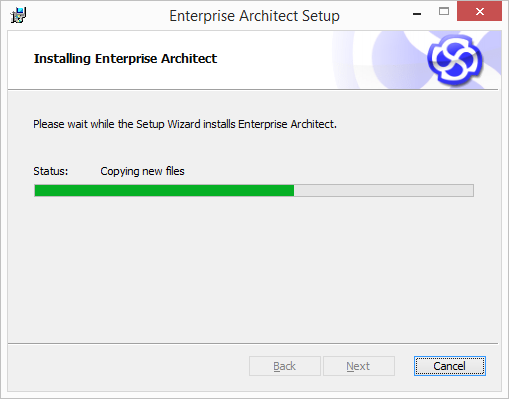 The dialog changes automatically.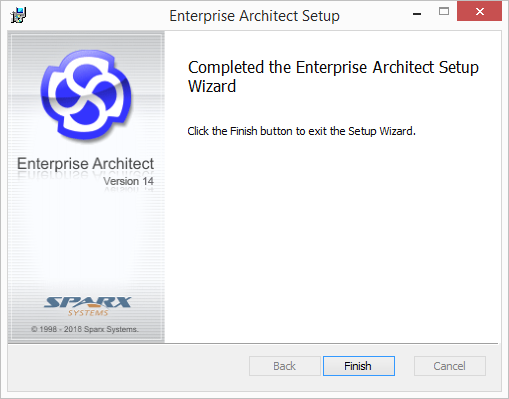 Click on the Finish button and check that the Enterprise Architect icon is displayed on your workstation desktop.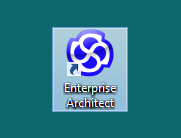 You have installed the Enterprise Architect Trial edition. Double-click on the icon to open the product.
The Enterprise Architect workspace displays, overlaid by the Trial Version screen.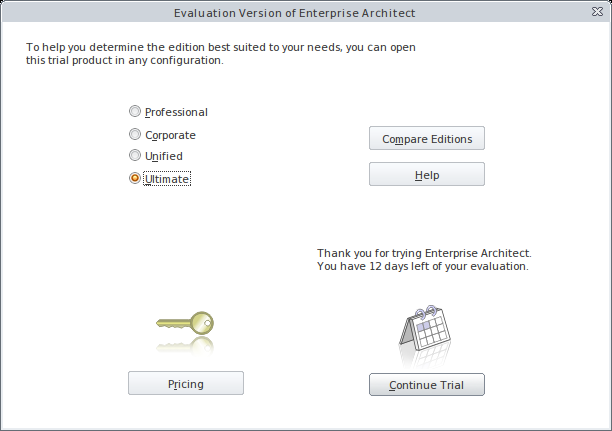 Over time, the dialog shows a count-down of the days left in the trial period. During the trial period, read the Help topic on The Trial Edition (Product Information > The Trial Edition) and extending the trial period.
The screen also displays a radio button for each of the editions of Enterprise Architect that you can try out. This screen displays whenever you open the Trial version, so you can explore different editions as many times as you want within the trial period.
Click on the radio button for any edition (for the purposes of this guide, it does not matter which) and click on the Continue Trial button.
The Enterprise Architect workspace displays.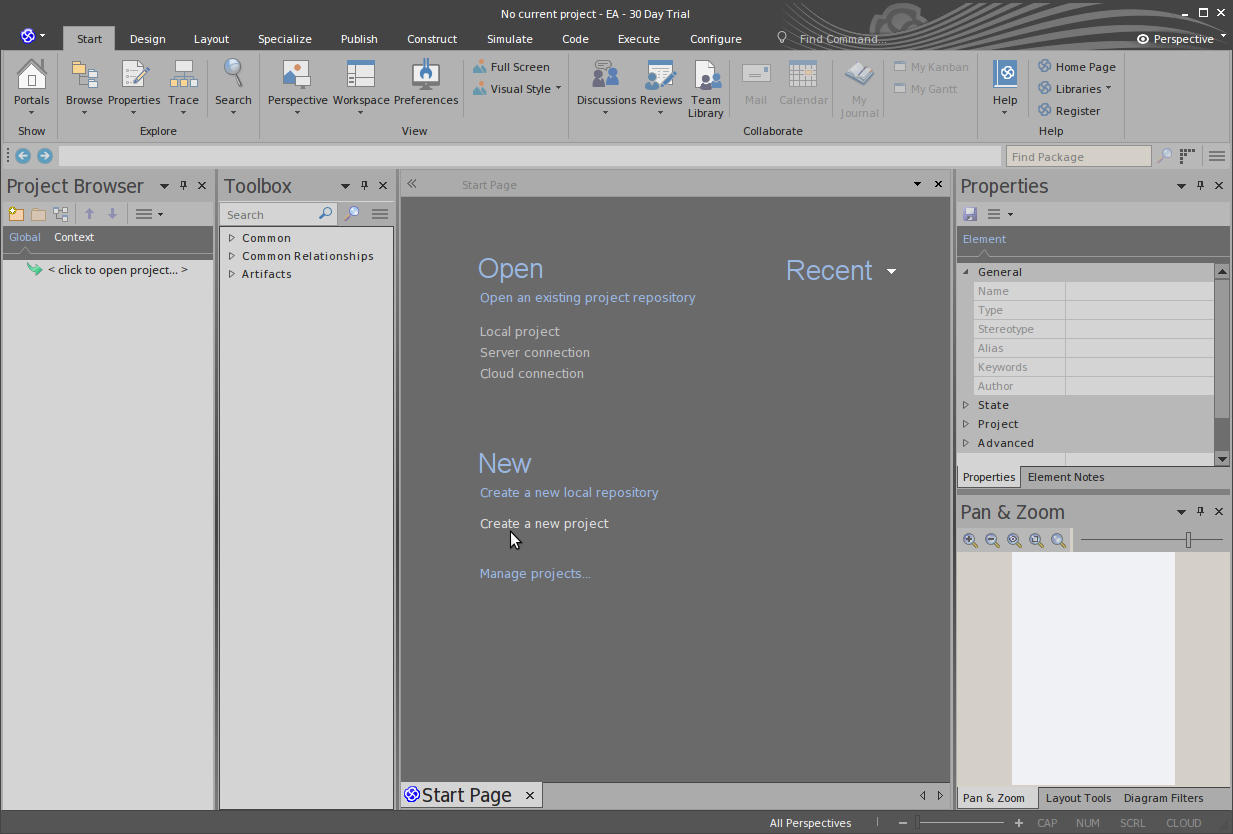 We provide a simple guide - Guide to the Trial Edition - to help you learn about the user interface and how to start modeling with Enterprise Architect. Refer to that guide now.
Notes
You cannot 'convert' the Trial version into the purchased registered product; you uninstall the Trial version before installing a registered version
The Trial version is available from an 'open' web page, whilst the registered versions are downloaded from a registered user web page, which you can access only by entering user credentials; these credentials are provided to you when you purchase the registered product