Sharing Resources in the Team Library
Teams that are using processes centered around Model Based Systems Engineering will invariably rely on a vast array of documents in the form of policies, methods, instructions, process descriptions, guidance documents, standards and other types of engineering or project documentation. Some of these will be document based and others will be resource based and available on an internal network, shared system, an Intranet or Extranet or more broadly the public Internet.
Regardless of where the documents or pages are located they can be either imported into Enterprise Architect or referenced as external resources via a URL. They can be included on a diagram as an Internal or External Artifact but more conveniently they can also be imported or referenced from the Team Library.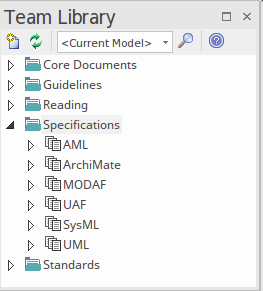 Consideration could also be given to importing some, or all, of the items in these documents as first class model elements. For example, a policy could be created as a metamodel element and the list of policies could be imported, allowing individual policies to be traced to particular system components. For more information see the Team Library Help topic.