Whiteboards
Scribble and Present Ideas Using an In-Model Electronic Whiteboard
The Whiteboard Technology provides a set of Diagram Toolbox pages with a selection of stereotyped element icons that generate simple shapes suitable for use on hand-drawn and whiteboard diagrams.
Access
Use any of the methods outlined here to display the Diagram Toolbox, then click on

to display the 'Find Toolbox Item' dialog and specify 'Whiteboard'.
| | |
| --- | --- |
| Ribbon | Design > Diagram > Toolbox |
| Keyboard Shortcuts | Ctrl+Shift+3 |
| Other | Click the icon on the Diagram caption bar to display the Diagram Toolbox |
Whiteboard Toolbox Pages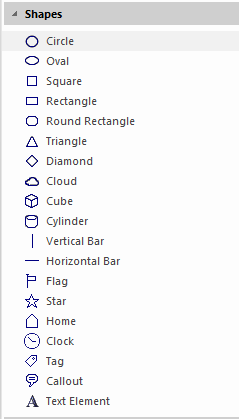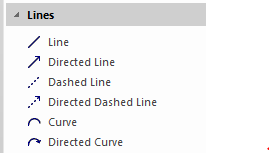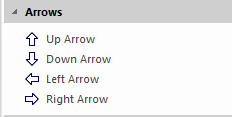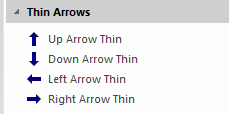 The Whiteboard Toolbox pages provide these shape icons:
Shapes: Circle, Oval, Square, Rectangle, Round Rectangle, Triangle, Diamond, Cloud, Cube, Cylinder, Vertical Line, Horizontal Line, Flag, Star, Home, Clock, Tag, Callout and Text Element.
Arrows: Up, Down, Left and Right
Thin Arrows: Up, Down, Left and Right
Lines: Line, Directed Line, Dashed Line, Directed Dashed Line, Curve, Directed Curve.
| Page Appearance | Description | See also |
| --- | --- | --- |
Whiteboard Diagram
You can create either a Whiteboard diagram or a Hand-drawn diagram. Both of these diagrams, when opened, cause the Whiteboard Toolbox pages to be opened.
Learn more