Chat
Enterprise Architect's internal Model Mail system can be accessed within WebEA, allowing you to view and send instant chat messages to other model users and groups from your web browser.
When enabled, the Chat view can be accessed by selecting the main 'Collaborate' tab, then the 'Chat' tab within the collaborate view.
Note, to use Model Chat the model must have User Security enabled, and the WebEA configuration should have the 'Show Model Chat' option set to 'Yes'. This is set to 'No' by default. See the How to configure WebEA models topic for details.
Model Chat Features
The 'Chat' tab of the Chat & Mail window provides these features and options.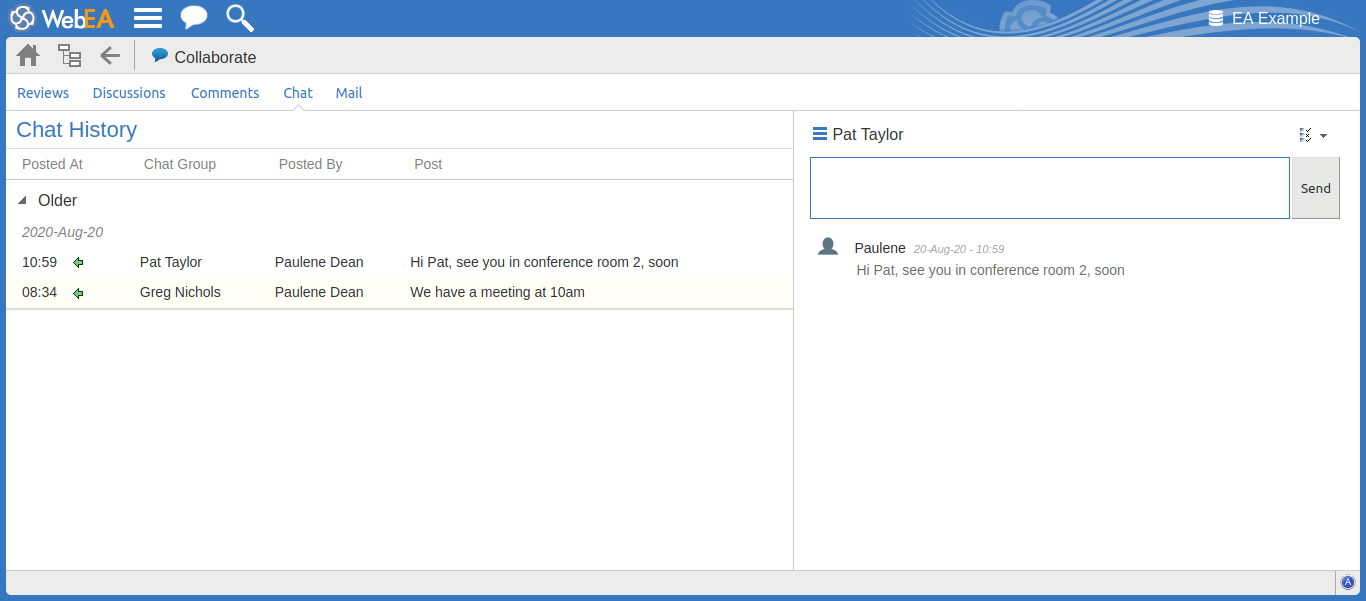 Chat History

On the left hand side of the Chat & Mail window is a summary of the latest chats to all people (or groups) that you have made organized by date.  Simply select any person (or group) in the summary to make them the active chat session.

Chat Messages

The right hand side of the Chat window displays the currently selected user or group that you are 'chatting' with, along with the previous chat messages that have been sent between you and the other person/group.

The small hamburger icon will display a drop-down of available users and groups that you can chat with.  Selecting one will refresh the lower section with the previous chat messages.  Recent users are displayed at the top of the drop-down and the two lower options present a submenu of all available Users and Groups.

The options icon will display a drop-down of available options that will control how many days of chat messages will be displayed.  Note: keeping this number low will improve performance.

Send

You can only be actively chatting to one person or group at a time, simply select the person (or group), type in your chat message and click the Send button
Learn more