Elaboration and Grooming
During the process of prioritizing the Backlog, and as work items move closer to the top of the Backlog or onto the work Queue, the work items must be prepared for the In-Progress stages of the workflow - in traditional methods, this process is termed 'elaboration', but is known as 'grooming' in Agile methods. Enterprise Architect has a number of facilities that can assist with the grooming of work items, so that when they are pulled onto an In-Progress lane the right information is available for an implementer to immediately start work.
Enterprise Architect has a form of requirement that is internal to an element and allows supplementary and more specific requirements to be added to a Work Item. These requirements are created in addition to the business, stakeholder, functional and non functional requirements that might exist for the work item.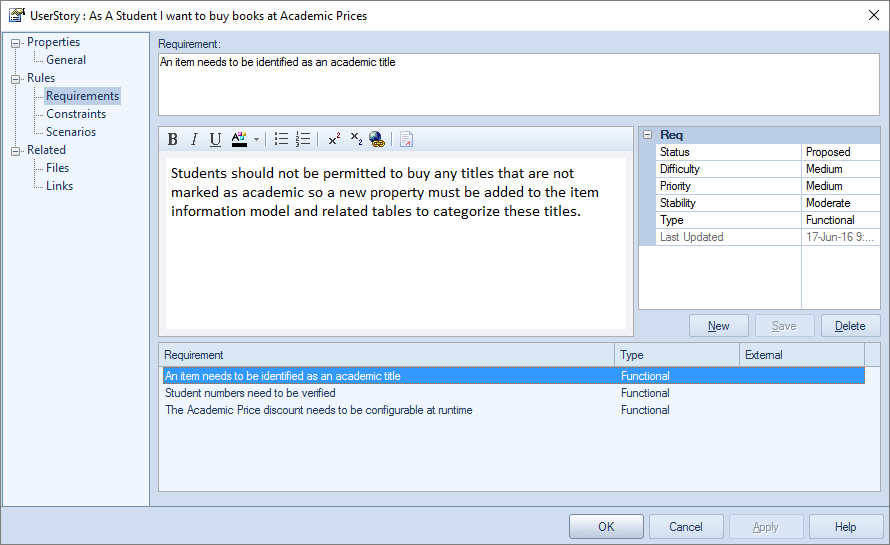 There is also a wide range of information that can be entered as Change Management Items for a selected Kanban Work Item. These items include Features, Changes, Documents, Issues, Defects and Tasks, and add rich additional information that will assist all team members, including the Product Owner and the Implementation team.

Enterprise Architect also has the 'Details' tab of the Inspector window, which is a convenient tool for viewing all the related information about an element in a single place. The 'Details' tab can be kept open in the Inspector window and items can be selected in a Kanban diagram, List, or Gantt chart, and the Work Item's specific information will be displayed.