License Management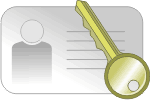 The License Management dialog in Enterprise Architect enables you to upgrade Enterprise Architect and to register Add-Ins.
To access License Management from within Enterprise Architect, select the Help | Register and Manage License Key(s) menu option. The License Management dialog displays, listing the currently-registered keys, when the key expires (or, for shared keys, when they are to be reactivated in the keystore for issue to another user) and the product each key applies to.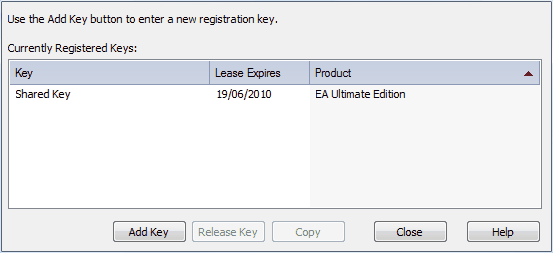 Use the buttons on the dialog as required:
Option

Use to

Add Key

Display the Add Registration Key dialog, which enables you to:

Add a new key to update to a higher version of Enterprise Architect or to register an Add-In.

Obtain a key from the Sparx Systems Key Store (available for version 4.51 and above).

For more information on adding keys see the Add License Key topic.

Remove Key

Release Key

(Private Key) Make the Add-In or current version of Enterprise Architect inoperable.

(Shared Key) Release the key to the keystore; however, the Keystore Manager is normally configured to release keys automatically when the user logs off.

Copy

Place the highlighted key into the clipboard.

Close

Close the dialog.

Help

Display the help for this topic.
You can also run the following tasks from the License Management dialog:
The material ("material" includes all pages, documents and on-line graphics) on this web site is protected by copyright law. (C) 1998-2010 Sparx Systems Pty Ltd.