General Settings
The General tab of the element Properties dialog enables you to record information on the element as a container, such as the name, status, or scope.
The tab is illustrated below: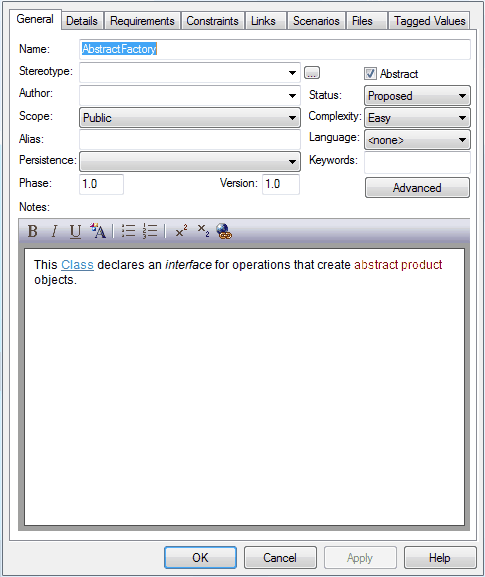 To define the element, complete the following fields:
| | |
| --- | --- |
| Field | Use to |
| Name | Change the element's name. |
| Stereotype | (Optional) Type the name of a stereotype for the element, or click on the drop-down arrow and select one. |
| Abstract | Indicate that the element is abstract. |
| Author | Enter or select the name of the original author. |
| Status | Indicate the current status of the element (such as Approved, Proposed). |
| Scope | Indicate the element's scope (public, private, protected, package). |
| Complexity | Indicate the complexity of the element (used for project estimation). Assign Easy, Medium or Hard. |
| Alias | Enter an alias (alternative display name) for the object. |
| Language | Select the programming language for the object. |
| Keywords | Enter free-text items such as keywords or context information. This can be filtered in Use Case Metrics and Search dialogs. |
| Phase | Indicate the phase this element is to be implemented in (for example, 1, 1.1, 2.0 ...). |
| Version | Enter the version of the current element. |
| Notes | Enter any notes text associated with the element, as described for the Notes window. You can format the notes text using the Notes toolbar at the top of the field. |
Further facilities are made available by pressing the Advanced button. See Advanced Settings for details.
The material ("material" includes all pages, documents and on-line graphics) on this web site is protected by copyright law. (C) 1998-2010 Sparx Systems Pty Ltd.