Server Based Repositories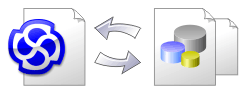 Introduction
The Desktop and Professional versions of Enterprise Architect use an MS JET database as the model repository. However, if you purchase the Corporate, Business and Software Engineering, Systems Engineering or Ultimate edition, you can also create any of the following DBMS repositories:
SQL Server 2000, 2005 or 2008

MySQL 4 or 5

PostgreSQL 7 or 8

Adaptive Server Anywhere 8 or 9, or SQL Anywhere 10 or 11

Access 2007

Progress OpenEdge

MSDE or

Oracle 9i, 10g or 11g.
You upsize your Enterprise Architect models (either existing or template) to use your selected DBMS, using the process appropriate to the repository you are setting up.
The material ("material" includes all pages, documents and on-line graphics) on this web site is protected by copyright law. (C) 1998-2010 Sparx Systems Pty Ltd.