Import Component Types
The Import Component Types dialog enables you to configure what elements you would like to be created for files of any extension found while importing a source code directory.
To access the Import Component Types dialog select the Tools | Options | Source Code Engineering menu option to display the Source Code Engineering page of the Options dialog, and click on the Component Types button.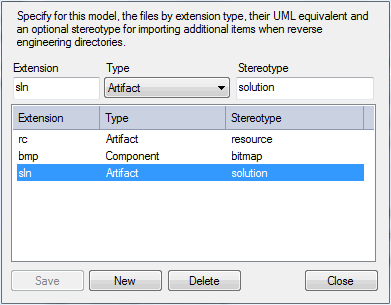 For each extension you can specify:
The element type to be created

The stereotype to apply to these objects.
The material ("material" includes all pages, documents and on-line graphics) on this web site is protected by copyright law. (C) 1998-2010 Sparx Systems Pty Ltd.