Use Case Extension Points
Use extension points to specify the point of an extended Use Case where an extending Use Case's behavior should be inserted. The specification text can be informal or precise to define the location of the extension point.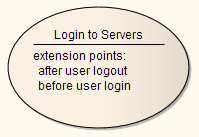 How to:
To work with extension points, follow the steps below:
Step

Action

1

Right-click on the Use Case element

The context menu displays

2

Select the Advanced | Edit Extension Points... menu option

The Use Case Extension Points dialog displays, listing defined points for that Use Case

3

Select an extension point in the list and click on the appropriate button to edit or remove the extension point, or to add a new one
Notes:
Conditions to apply the extending Use Case, and the extension point to use, should be attached as a note to the extend relationship
Learn More:
The material ("material" includes all pages, documents and on-line graphics) on this web site is protected by copyright law. (C) 1998-2011 Sparx Systems Pty Ltd.