1
« on: March 23, 2017, 02:59:55 am »
The EA User Guide says that when importing requirements from a DOORS module it is possible to import any attachments that may exist on any of the objects - specifically through the following import dialog: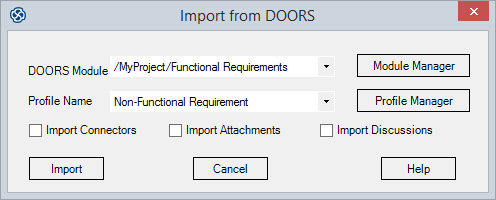 See
http://sparxsystems.com/enterprise_architect_user_guide/13.0/model_domains/import_from_doors.html
However when I attempt to import I don't see this dialog (a different one is shown) and there seems to be no option elsewhere to ask for attachments to be imported. Has anyone faced similar issues, and if so how did you overcome them?
I'm using version 2.2 of the MDG Link for DOORS (which is the latest I believe) and EA build 1309 (Ultimate edition).
Thanks,
Martin