Model Integration for Microsoft® Office
Leverage Office Documentation in Enterprise Architect!
Welcome to the MDG Integration for Microsoft Office. This extension to Enterprise Architect enriches your documents and spreadsheets with tools for UML®, SysML, BPMN™ and many other modeling notations.
Key Tools for Integrating Word, Excel®, Visio®, PowerPoint®
Import requirements, uses cases and more from Word and Excel
Synchronize model changes back to documents and spreadsheets
Import process diagrams from Visio into structured BPMN
Publish model contents to PowerPoint presentations
Ensure your presentation stays current with the latest model
Enrich Office documentation with industry-standard modeling notations!
Watch our short tutorial and get started today!
PowerPoint Integration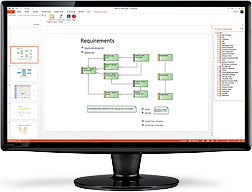 PowerPoint integration provides easy access to Enterprise Architect's model repository within PowerPoint presentations. You can insert references to the model, use hyperlinked model element names, insert diagrams as images and tabulate package contents on slides.
References can be refreshed when required to fetch the latest model information, automatically updating the PowerPoint slides!
Excel Import-Export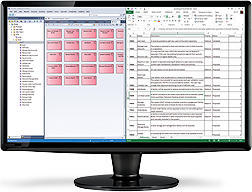 The Excel Importer tool allows users to import contents from Excel workbooks into Enterprise Architect as model elements. This includes importing spreadsheet data as UML Elements, Connectors, Attributes and Operations.
Excel Export allows users to publish Enterprise Architect model contents including elements, connectors, tagged values, attributes and operations, as Excel Workbooks. Users also have the flexibility to generate the model contents to a pre-formatted Excel worksheet.
Word Importer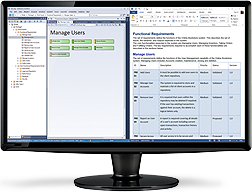 The Word Importer tool brings Requirements, Use Cases, Processes, Classes and other data from Word documents into Enterprise Architect as model elements. The Word Importer provides a step-by-step approach that helps you map items such as sections, tables and delimited name-value pairs to Enterprise Architect elements and properties – including defining custom tagged values.
The reusable profiles offers a convenient way to allow users to define the configurations once for a particular document structure (template) and reuse it for all documents that follow a similar structure.
Visio Importer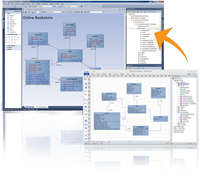 MDG Integration for Office also includes a Visio Importer, which translates Microsoft Visio diagrams (files with .vsd and .vdx extensions) into an equivalent model in Enterprise Architect.
Migrating from Visio to Enterprise Architect helps you to better utilize existing data across the whole enterprise. Read more about moving from Visio to Enterprise Architect.
System Requirements
Enterprise Architect 12 (Build 1212 or higher)
Microsoft Office 2007 or higher must be installed prior to installation of MDG Integration for Microsoft Office
40 MB hard disk space
1280*720 or higher resolution display
Microsoft Windows 8, Windows 7, Windows Vista, Windows 2008 Server, Windows 2003 Server or Windows XP Service Pack 2.
(32 bit and 64 bit operating systems supported*)
— Or —
Windows 2003 Server, Windows XP (SP3 or later), Windows 2000 Professional (SP3 or later), Windows 2000 Server (SP3 or later), Windows Vista
Installation Instructions:
Ensure that you meet the system requirements.
Run the MDG Integration for Microsoft Office installer by double-clicking on the msi.
Read the licensing agreement and if you accept the terms click on the next button.
Read the Readme information, and then click on the next button.
Enter the user and organization names into the appropriate fields, then click on the next button.
(Optionally determine the users who have access this program by choosing between the all users or only registering users).
Choose an installation path for the program, and then click the next button.
Microsoft, PowerPoint, Excel and Visio are registered trademarks of Microsoft Corporation in the United States and/or other countries.
UML and BPMN are either registered trademarks or trademarks of Object Management Group, Inc. in the United States and/or other countries.