Importing Visio Diagrams into Enterprise Architect
Importing Visio Diagrams into Enterprise Architect
Overview - MDG Link for Microsoft Visio
The MDG Link for Microsoft Visio is an add-in for Enterprise Architect, designed to translate Microsoft Visio diagrams (files with .vsd and .vdx extensions) into their model equivalent in Enterprise Architect.
Using MDG Link for Microsoft Visio
To import one or more diagrams from Microsoft Visio into Enterprise Architect:
1. Use theEnterprise Architect Project Browser, to select the package that will contain the imported Visio diagram.
From the main menu, select Extensions | Microsoft Visio | Import Visio Documents.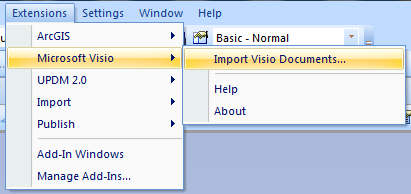 Figure 9: The command for importing Visio diagrams is available from the Extensions menu.
The file selection dialog displays.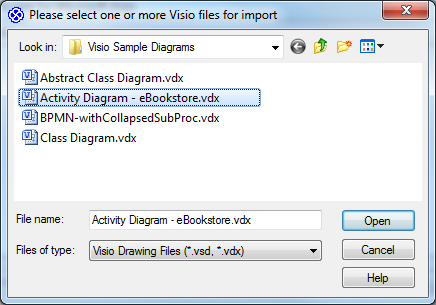 Figure 10: Select the Visio files to be imported.

2. Select one or more .vsd or .vdx files containing Visio diagrams to import, and click on the Open button. If selecting multiple files, it is best to only select files that contain similar diagram types (such as Class diagrams).
Note:
Ensure that none of the selected diagrams are already open in Visio. For best results, close any running instances of Visio before proceeding with the import.
3. Enterprise Architect prompts you to specify the default types to be created for elements, diagrams and connectors that are imported from Visio.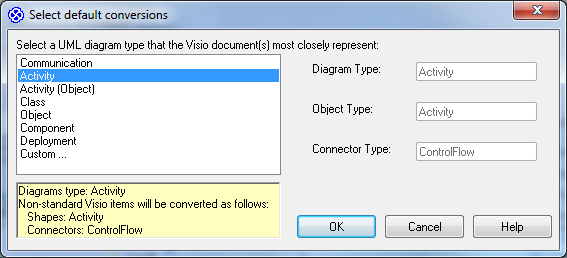 Figure 11: You can specify the default types to use for any objects the importer cannot recognize.

These types are used only where the importer has not been able to recognize the type of object in Visio to map accordingly. Several pre-defined mapping profiles are provided for convenience, or you can specify your own custom default mappings.
4. Click on each required profile, then click on the OK button. A progress dialog displays, listing any warnings or errors that occur during import. You can review these messages once the import has completed.
When the "Import completed..." message displays on the dialog, all specified diagrams should be imported into Enterprise Architect. Click on the Close button to review the imported diagrams.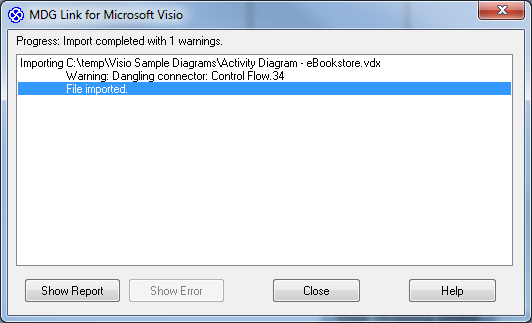 Figure 12: On completion, the importer will report any errors it found in the imported diagrams.
Note:
While the MDG Link for Microsoft Visio does its best to convert Visio shapes to UML equivalents, the translation might not always be perfect and you should take into account the following points:
A particular Visio shape might not directly map to a UML element

Microsoft Visio does not provide access to all the information stored in its diagrams

A connector must be 'glued' to a Visio shape at both ends for the importer to recognize it as a relationship
Some minor diagram layout information, such as element and connector positioning, might have to be manually adjusted following import.
In the event that something fails to import, the Add-In provides you with a full report of all errors and enables you to easily highlight the item in the Visio diagram that could not be imported.
Errors on Import
Some Visio shapes cannot be properly imported into Enterprise Architect. Most often, these are connectors that are not correctly attached to valid objects at both ends.
During an import, any Visio shape that has failed to import is identified in the progress window. Once the import process is complete, you can view a report or view the specific shape that failed to import, in the original Visio diagram.
View a Report
After the import process has completed, the Show Report button becomes available on the Progress window. Click on this button to open an HTML report on the import, that details the translations from Visio shapes to Enterprise Architect objects.
Highlight an Error in the Original Visio Diagram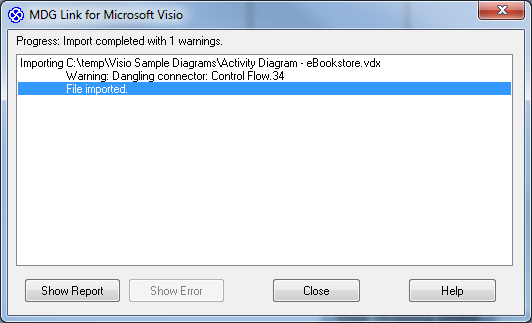 Select an Error or Warning shown in the Progress window and click on the Show Error button. The original Visio diagram is opened, highlighting the shape that failed to import.
Support
Technical support for MDG Link For Microsoft Visio® is available to registered users of Enterprise Architect. Responses to support queries are sent by email. Sparx Systems endeavours to provide a rapid response to all product-related questions or concerns.
Registered users can lodge a support request, by visiting:
http://www.sparxsystems.com/registered/reg_support.html
Trial users can contact Sparx Systems with questions regarding their evaluation at:
support@sparxsystems.com
An online user forum is also available for your questions at:
http://www.sparxsystems.com/forum/smf/
Conclusion
If you are not using Enterprise Architect to design your systems, you are giving up opportunities for increased productivity, that result from re-using your data across the whole project, sharing that data across the entire project team and using the model to drive the solution.
Enterprise Architect delivers the capacity for data sharing and re-use, achieving synergies and efficiencies that can only be realised using an integrated development environment.
Now, you can easily import your existing information into Enterprise Architect, without losing any of the work you have already done.
See for yourself how the rich feature set of Enterprise Architect will improve your productivity.
Download the Trial version of Enterprise Architect now and use the Add-In to unlock the value in your existing data.
You could be reaping the benefits of Enterprise Architect in less than twenty minutes!
< Moving Visio Diagrams into Enterprise Architect >
Acknowledgement of Trademarks
Trademarks of Microsoft

Visio®, Windows®.
Trademarks of Sparx Systems

Enterprise Architect®, MDG Link®.