Setting up a Team Modeling Environment
Webinar
November 2013
Scott Hebbard, Communications Manager at Sparx Systems, will demonstrate how to set up Enterprise Architect for team based modeling.
In this webinar, you will learn how to:
Set up a relational database for hosting a shared model repository
Create role-based users and groups for model authors
Connect to your shared model and leverage collaborative modeling tools.
Explore the Model
This is a copy of the model that was transferred to the DBMS during the webinar.
Download: getting-started.eap
Questions & Answers
Does Sparx Systems have a preferred or recommended DBMS product/vendor?
No, Sparx Systems does not have a preferred or recommended DBMS vendor. Enterprise Architect supports a number of different DBMS products, and you are free to choose the platform that is the most convenient for your corporate needs. MySQL was chosen because it was the first open source product listed on the Team Modelling Resources page.

For more details regarding supported DBMS vendors, please visit the Enterprise Architect User Guide.
Does Sparx Systems provide any written documentation that describes the process for creating a shared model repository, as demonstrated in the webinar?
Yes, documentation is provided for each DBMS repository on the Team Modelling Resource page.

For more details regarding Server Based Repositories, please visit the Enterprise Architect User Guide.
Does Enterprise Architect provide support for Active Directory users and groups with respect to Role Based Security?
Active Directory is a directory service implemented by Microsoft for Windows domain networks.

Yes, it is possible to import user ID's from Windows Active Directory into Enterprise Architect for the purpose of managing Role Based Secutity. This allows you to reference user ID's that are listed in Active Directory. It is important to note that for each Windows User ID, Enterprise Architect automatically generates a random password, rather than using the Domain password. However, if necessary you can assign a new password to any imported user ID.

For more information, see Enterprise Architect's Help topic on Importing User IDs From Active Directory.
Does Enterprise Architect authenticate against the LDAP group with respect to Role Based Security?
Enterprise Architect does not authenticate directly against the LDAP group. You can import your Windows user IDs from Windows Active Directory and use those as the security user IDs with Windows Authentication.

There is a check box on the Security Users dialog to "Accept Windows Authentication".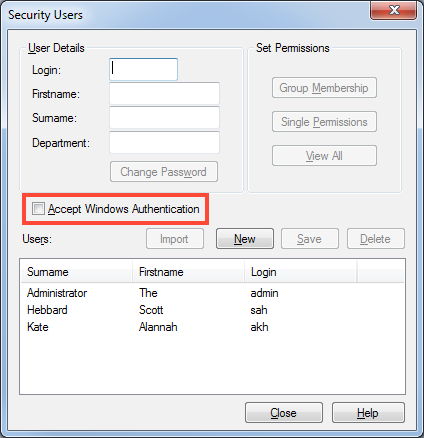 Is it possible to integrate Model Mail with an external mail program such as Microsoft Outlook or Mozilla Thunderbird?
Model Mail does not currently integrate with Outlook or Thunderbird. Model Mail provides a strong focus on project delivery outcomes and allows you to communicate with your team, without ever having to leave the modeling environment. You can create messages that link directly to model elements or diagrams, helping to provide context and relevance. Model Mail is not generally subject to SPAM, because the only people who are able to send and receive email are those people who are trusted employees or members of your project team.
Is this webinar (and others) available on your website?
http://www.sparxsystems.com/webinars

Previous webinars cover a diverse range of topics including simulation, traceability, visual modeling, execution analysis, project management and much, much more.
I assume you can only have one project per database, is this correct?
Yes.
If you have a distributed environment (users in multiple locations, such as India, Canada, USA, etc.) do you have one DB at a central location? How is the performance across a network if we chose to have a single database at one location?
The Sparx Systems Deployment of Enterprise Architect Whitepaper provides a comprehensive overview of deployment options.

Network performance can potentially be improved via the WAN Optimizer and Lazy Load capabilities.
Which Enterprise Architect edition is required to produce a shared repository, as shown in the webinar?
Enterprise Architect Corporate (and higher) editions provide access to a DBMS shared repository. For more information on the features available in different editions of Enterprise Architect, please view the Compare Editions page on the Sparx Systems website.

Please note that supported DBMS platforms include: MSSQL Server, MySQL, Oracle, PostgreSQL, Progress OpenEdge, MSDE, Adaptive Server Anywhere.
Is it possible to hide specific packages (so that some users cannot see them) using Enterprise Architect's Role Based Security?
No. You can prevent selected users from editing packages and apply user or group locks as appropriate, but you cannot hide parts of the model from users. Instead, you could export the relevant parts of the model using XMI and make these available to users that should only see part of the model.