Delete Package in Model Document
In your use of Model Document elements to generate documents on specific Packages, you might determine that a Package you have identified to be documented is no longer necessary. You can omit the Package from your documentation by deleting the corresponding attribute from the Model Document element.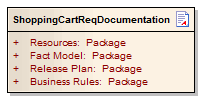 Delete Package from Model Document element
| Step | Action | See also |
| --- | --- | --- |
| 1 | In the Project Browser, expand the Model Document element to list the Package attributes. | |
| 2 | Right-click on the attribute for the Package to omit, and select the 'Delete Attribute' option. | |
Alternatively
Step

Action

See also

1

In either the Project Browser or the diagram, right-click on the Model Document element and select the 'Attributes' option.

The 'Features' dialog displays at the 'Attributes' page.

2

On the Attributes list, click on the attribute for the Package to omit.

3

Click on the Delete button to remove the attribute from the document element.
Learning Center topics
Alt+F1 | Enterprise Architect | Reporting | Virtual Documents | Remove a Package