Model Validation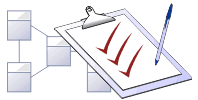 You use Model Validation to check UML models against known UML rules (which you identify when configuring validation) as well as any constraints defined within the model using the Object Constraint Language (OCL). You can run Model Validation against a single UML element, a diagram or an entire package.
Access Project | Model Validation | Validate Selected (Ctrl+Alt+V)
Validation Concepts
Learn more
The material ("material" includes all pages, documents and on-line graphics) on this web site is protected by copyright law. (C) 1998-2013 Sparx Systems Pty Ltd.