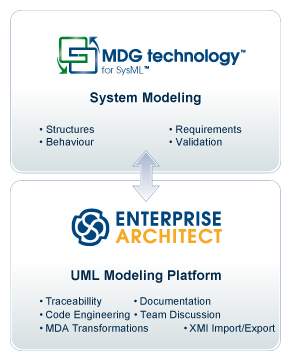 Enterprise Architect, together with MDG for SysML 1.5, delivers a powerful, low cost modeling solution for Systems Engineering.
Together, this integrated modeling environment allows you to:
Specify system requirements with powerful requirements modeling support.
Design deeply-nested structures of systems and sub-systems using blocks and block diagrams.
Analyze system-to-system behavior using Interaction Diagrams, Activity Diagrams and Statecharts.
Define system dynamics and enforce correctness with parametric and constraint blocks.
Specify, design and analyze complex system models using SysML with Enterprise Architect
Model with all SysML 1.5 diagrams.
SysML 1.1, SysML 1.2, SysML 1.3, SysML 1.4 and SysML 1.5 supported.
Conduct MDA (Model Driven Architecture) Style Transformations.
Visualize and trace requirements to model elements throughout the entire development lifecycle.
Built-in Discussion Forum: Create posts, access discussions and manage threads for team communication.
Custom Search Facility: Perform complex searches, view SysML Allocations and generate reports from the results.
Support for XMI 2.0, XMI 2.1 and UML 2.x
Version Support:
SysML support comes built into Corporate and above editions of Enterprise Architect
To use SysML on the Professional Edition, a MDG for SysML license key will need to be purchased
MDG for SysML requires Enterprise Architect 12.1, or later.