Composite Foreign Key
Create a composite Foreign Key
Step

Action

See also

1

Locate the required Tables in a diagram.

Both tables must have defined database types.

2

Select an Associate connector in the Class Relationships page of the Toolbox.

3

Click on the Table to contain the Foreign Key (source) and draw the connector to the other Table (target).

4

Right-click on the connector and select the Foreign Keys context menu option.

The Foreign Key Constraint dialog displays.

5

The default foreign key name is set by the Foreign Key Name Template.

To change the name to something other than the default provided by the template, select the Override Template checkbox and edit the foreign key name.

6

In the Source: panel and the Target: panel, click on the names of the required columns in each panel.

7

Click on the OK button.

The Foreign Key columns are sorted according to data type to match the data types of the targeted composite Primary Key.

8

If required, you can change the order of the key columns by clicking on the and buttons.
Example
This example shows what a Composite Foreign Key looks like in a diagram: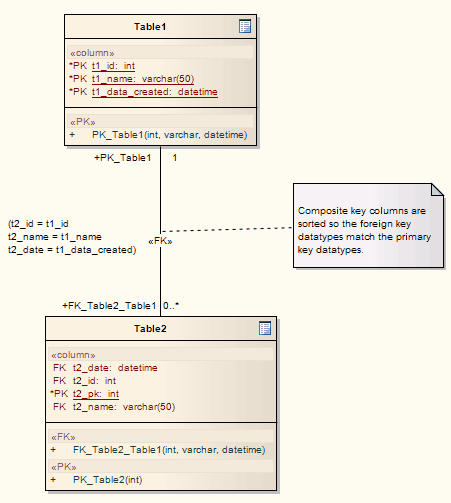 The material ("material" includes all pages, documents and on-line graphics) on this web site is protected by copyright law. (C) 1998-2014 Sparx Systems Pty Ltd.