Pie Chart
A Pie Chart can have this appearance: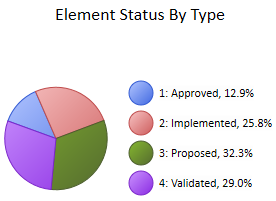 You define this appearance - or its alternatives - on the Appearance page of the element Properties dialog, after having set the Type field on the Source page to Pie. Each change in setting is immediately illustrated by an example Chart on the Appearance page.
Access Double-click on Chart element | Chart Details | Appearance
Define Pie Chart Appearance
Learn more
The material ("material" includes all pages, documents and on-line graphics) on this web site is protected by copyright law. (C) 1998-2014 Sparx Systems Pty Ltd.