Add Views
This example shows a customized view called Java Code View, which has been added to the end of the Views list.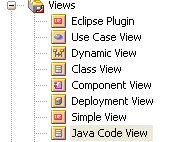 Access Project Browser root node context menu | Add | New View
Create a View
Learn more
The material ("material" includes all pages, documents and on-line graphics) on this web site is protected by copyright law. (C) 1998-2015 Sparx Systems Pty Ltd.