Formal Statements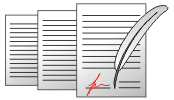 Please take the time to read the following legal statements concerning Sparx Systems Enterprise Architect:
Spark Systems would also like to gratefully acknowledge contributions to the development of Enterprise Architect.
The material ("material" includes all pages, documents and on-line graphics) on this web site is protected by copyright law. (C) 1998-2010 Sparx Systems Pty Ltd.