Diagram Context Menu
To open the diagram context menu, open the required diagram and right-click on the diagram background.
Not all the menu options shown below appear on all diagram context menus.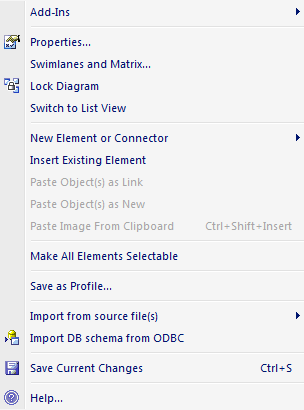 The diagram context menu enables you to:
Note:
This does not apply if security is enabled in the Corporate, Business and Software Engineering, Systems Engineering and Ultimate editions. In that case, see the Lock Model Elements topic.
Display the diagram contents as an Element List instead of as a diagram
Insert various elements and connectors into a diagram
Paste copied element(s) as a link or as new elements
Paste an image held on the clipboard into the diagram

Make all the elements on the diagram selectable. I

f an element is selectable, you can move it around the diagram and perform right-click context-menu operations. If an element is unselectable, you cannot move it around the diagram and the only right-click operation available is to make the element selectable. This option has no effect on double-click operations on the element, such as displaying child diagrams.

Save the current diagram as a Profile
Import, or reverse engineer, source code (not available in the Desktop edition)
Save any changes to the current diagram

View the Enterprise Architect Help on the type of diagram currently displayed.
The material ("material" includes all pages, documents and on-line graphics) on this web site is protected by copyright law. (C) 1998-2010 Sparx Systems Pty Ltd.