Model Templates
The model templates contained in Enterprise Architect are designed to assist in the creation of projects and models for both new and experienced users.
Each template provides a framework on which you can create a model appropriate to your purpose, using the Model Wizard.
Template Format
All the model templates provided with Enterprise Architect follow the format described below.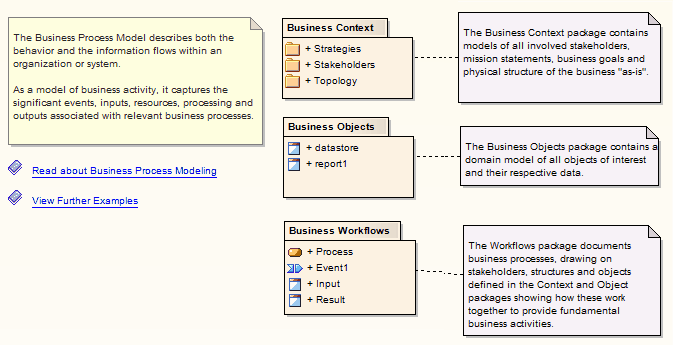 Note
The note introduces you to the model template and outlines its purpose.
Help Links
Help hyperlinks provide further information on how to use the model. Depending on the model template, links to examples and other useful information are also provided.
Template
The Template section in the model template provides a framework for creating your own model.
The topics listed below provide an introduction to the terminology and icons used in the model templates, and give you a quick guide to the UML concepts important to the templates and how they are applied in Enterprise Architect.
If you are a Technology Developer, you can also create and distribute custom templates as part of your own MDG Technology.
The material ("material" includes all pages, documents and on-line graphics) on this web site is protected by copyright law. (C) 1998-2010 Sparx Systems Pty Ltd.