Testing Types
Use the Test Types tab of the Maintenance dialog to add testing types to the basic set that comes with Enterprise Architect. Typical test types are load tests, performance tests and function tests.
To access this dialog, select the Settings | Maintenance menu option. The Maintenance dialog displays. Click on the Test Types tab.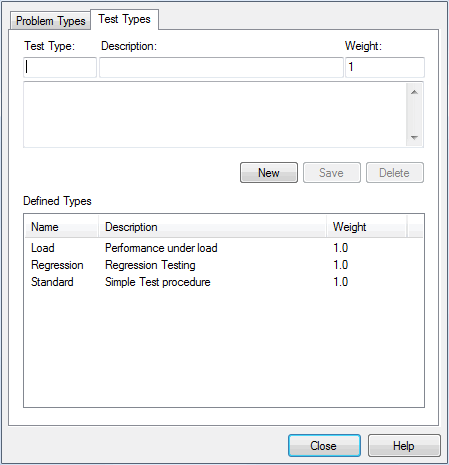 To add a new test type, click on the New button and:
In the

Test Type

field type the name of the testing type

In the

Description

field type a short description of the testing type

In the

Weight

field type the weighting to apply to the testing type

In the

Note

field, type any additional information on the testing type

Click on the

Save

button.
The testing type displays in the Defined Types list.
Note:
You can transport these test types between models, using the Export Reference Data and Import Reference Data options on the Tools menu. You can either export the test types together with the default problem types, as a Maintenance Types file, or separately as a Test Types file.
The material ("material" includes all pages, documents and on-line graphics) on this web site is protected by copyright law. (C) 1998-2010 Sparx Systems Pty Ltd.