Resources
Access: View | Other Project Tools | Resources.
The Resources window displays a tree of Technologies, Templates, Documents, UML Profiles and Patterns, commonly-used model elements and Matrix profiles. This view provides useful shortcuts and re-use functions that you can use to add stock elements to the current model, and patterns and elements for additional information.
Tip:
In the Corporate, Business and Software Engineering, Systems Engineering and Ultimate editions of Enterprise Architect, if security is enabled you must have Configure Resources permission to maintain Resources window items.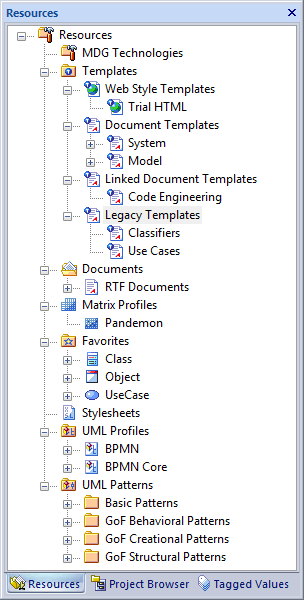 Note:
From release 7.5 of Enterprise Architect, the method of importing MDG Technologies into the Resources window is available but not recommended. However, you might previously have imported Technologies into the Resources window, and these are still available until you specifically delete them (right-click on the Technology and select the Delete Technology context menu option).
You can also synchronize the Tagged Values and constraints for any elements created from a profile element in the Resources window.
Tip:
To add a document to the shortcut list, select the Project | Documentation | Rich Text Format (RTF) Report menu option. Once you have defined your document click on the Resource Document button and type in a name. The document name then displays in the Resources window. By right-clicking on the document name you can regenerate documents individually or as a batch, or open them directly from Enterprise Architect.
Matrix Profiles

provides quick access to saved

Relationship Matrix

profiles; double-click on a profile to load the matrix with the saved settings and source-target packages

Favorites

provides a shortcut to elements that you configure as a shortcut

Stylesheets

enables you to import XSL Style sheets, which are then available in the drop-down list on the

XML Export

dialog.
Note:
If you select a style sheet on export, Enterprise Architect applies that style sheet to the XMI generated before saving to file. This makes it convenient to generate other forms of output from the base XMI content. Combined with UML Profiles, this is a powerful means of extending Enterprise Architect to generate almost any content required.
The material ("material" includes all pages, documents and on-line graphics) on this web site is protected by copyright law. (C) 1998-2010 Sparx Systems Pty Ltd.