Stored Procedures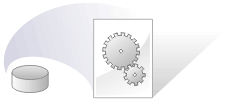 What is a Stored Procedure?
A stored procedure is a group of SQL statements that form a logical unit and perform a particular task. Stored procedures are used to encapsulate a set of operations or queries to execute on a database server. You can compile and execute stored procedures with different parameters and results, and they can have any combination of input, output and input/output parameters.
Enterprise Architect models stored procedures as individual Classes.
Note:
Stored procedures are currently supported for: DB2; SQL Server; Firebird/Interbase; Informix; Ingres; Oracle 9i, 10g and 11g; MySQL; PostgreSQL; Sybase Adaptive Server Enterprise (ASE) and Sybase Adaptive Server Anywhere (ASA).
The material ("material" includes all pages, documents and on-line graphics) on this web site is protected by copyright law. (C) 1998-2010 Sparx Systems Pty Ltd.