Structured and Sequential Nodes
On a diagram, Structured and Sequential Activity Nodes have broken borders and composite diagram icons, as shown below:


To display the Activity diagram represented by a Structured or Sequential Activity Node element, double-click on the element.
Structured Activity Node elements can point to child diagrams that themselves contain or consist of Structured Activity elements; that is, the Structured Activity elements are nested, as shown in the section of Project Browser below.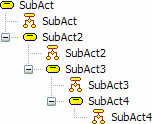 The material ("material" includes all pages, documents and on-line graphics) on this web site is protected by copyright law. (C) 1998-2010 Sparx Systems Pty Ltd.