Maintenance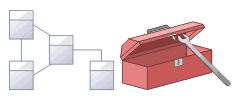 This topic highlights some administrative functions you might have to carry out to maintain your model:
Note that you only rename, compact and repair models created as .EAP files. These processes are not required for models stored in a DBMS.
The material ("material" includes all pages, documents and on-line graphics) on this web site is protected by copyright law. (C) 1998-2010 Sparx Systems Pty Ltd.