Exclude Elements
The Rich Text Format Report dialog enables you to exclude elements of any type from your final output. This is useful when you want to highlight particular items and not clutter up a report with too much detail.
Open the Rich Text Format Report dialog (see The Legacy RTF Report Generator for how to do this). Look at the Exclude details for panel on the right of the dialog.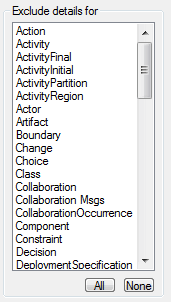 Click on each element to exclude, or click on the All button to exclude all elements. Click on the None button to clear your selections.
The material ("material" includes all pages, documents and on-line graphics) on this web site is protected by copyright law. (C) 1998-2010 Sparx Systems Pty Ltd.