Code Template Framework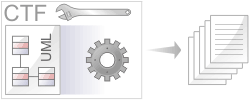 The Code Template Framework (CTF) is used during forward engineering of UML models. The CTF enables you to:
Generate source code from UML models

Customize the way in which Enterprise Architect generates source code

Forward engineer languages not specifically supported by Enterprise Architect.
The CTF consists of:
Default Code Templates which are built into Enterprise Architect for forward engineering supported languages
A Code Template Editor for creating and maintaining user-defined Code Templates
The material ("material" includes all pages, documents and on-line graphics) on this web site is protected by copyright law. (C) 1998-2010 Sparx Systems Pty Ltd.