Spell Checking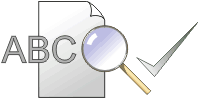 Enterprise Architect provides a powerful spell checking facility. This operates at the project level and enables you to quickly spell check an entire project.
The spell checker can be set to run automatically, so that it highlights possible errors in text as it is created or pasted in. To turn automatic spell checking on and off, select the Tools | Options menu option, click on the Objects option in the page hierarchy, and then deselect or select the Disable spelling checkbox.
See Also
The material ("material" includes all pages, documents and on-line graphics) on this web site is protected by copyright law. (C) 1998-2010 Sparx Systems Pty Ltd.