View Debug Variables in Code Editors
During debugging, whenever a thread is suspended at a line of execution, you can inspect member variables in the Source Code Editor. To evaluate a member variable, use the mouse to move the cursor over the variable in the Editor, as shown in the following examples: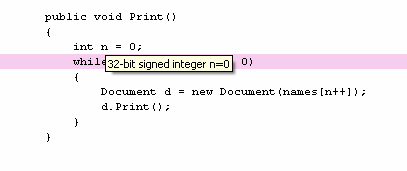 Learn more
The material ("material" includes all pages, documents and on-line graphics) on this web site is protected by copyright law. (C) 1998-2015 Sparx Systems Pty Ltd.