Systems Engineering
| | | | |
| --- | --- | --- | --- |
| Systems Engineering Modelling | SysML | SysML Requirements | Parametrics |
| A step by step guide to creating your first Systems Engineering Model | Get started with SysML with this introduction to the MDG Technology, available toolboxes and more | The SysML Requirements Model provides the system requirements, the expected abstract behavior, and the operating constraints that the designed system must conform to. | SysML Parametric models support the engineering analysis of critical system parameters, including the evaluation of key metrics such as performance, reliability and other physical characteristics. |
| | | | |
Topics
Topic

Detail

See also

Usage

To model Systems using SysML in Enterprise Architect, you work through the following steps:

·

Create a Systems Engineering model

to develop your system

·

Create a Requirements model

to define the systems requirements and expectations

·

Create an

Operational Domain model

, which describes the environment that the system operates within, and the entities it interacts with

·

Create Constraint models

to describe the systems operating characteristics using parametric models

·

Simulate the parametric models

to verify their correctness and obtain the desired characteristic

·

Design the system's composition

using SysML Blocks and Parts

·

Implement the embedded software

using UML Classes and behavioral models

·

Create a Library of reusable SysML blocks

, representing subsystems that can be reused on other projects, and other common Type definitions

Create a Systems Engineering Model

A SysML Operational Domain Model

Generate from Behaviour Models

Example
These steps are represented graphically in the following flow:

Create a Systems Engineering Model from a template
Step

Action

See also

1

In the Project Browser, either:

·

Click on the

New Model From Pattern

icon in the toolbar

·

Right-click on a model root node and select the

Add a New Model using Wizard

context menu option, or

·

Right-click on a Package and select the

Add | Add a New Model using Wizard

context menu option

The Select Model(s) dialog displays.

2

In the Select From field, click on the drop-down arrow and select Systems Engineering Model.

Alternatively, if it is listed in the Technology panel, select the Systems Engineering Model item.

3

In the Name panel, select the checkbox next to the Systems Engineering Model icon.

4

Click on the OK button.
Example
This model structure is created in the Project Browser:
This Systems Engineering Model diagram encapsulates the key components of the Systems Engineering model.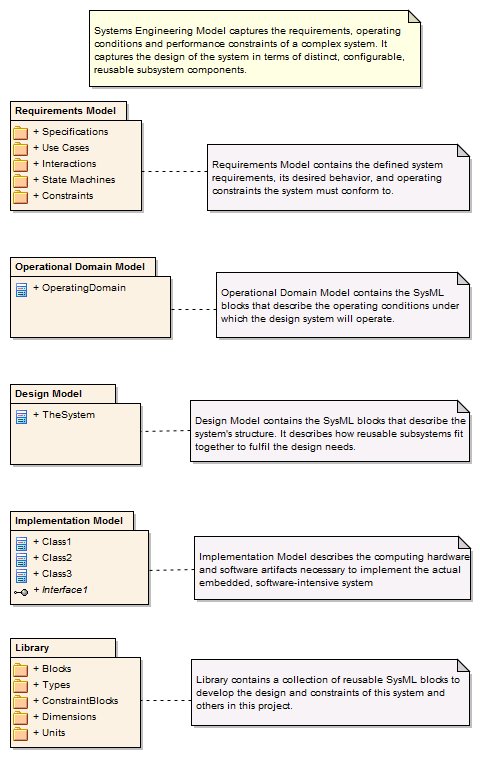 Notes
| | |
| --- | --- |
| · | Systems Modeling Language (SysML) is provided with the Systems Engineering edition and Ultimate edition of Enterprise Architect |
Learning Center topics
·

(Alt+F1

)

| Enterprise Architect | Systems Engineering
The material ("material" includes all pages, documents and on-line graphics) on this web site is protected by copyright law. (C) 1998-2015 Sparx Systems Pty Ltd.