Add a Package To a Model
A Package is a container of model elements, and is displayed in the Project Browser as the 'folder' icon familiar to Windows users. Package contents are arranged alphabetically.
In the Project Browser click on a package and, in the Project Browser toolbar, click on the New Package icon

.
Enterprise Architect displays a prompt for the package name.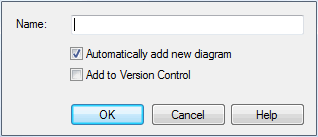 Note:
This prompt also contains the Automatically add new diagram option for automatically creating a diagram for the package, which defaults to selected. This is very a useful feature, but for the purposes of this introduction deselect the checkbox against the option.
Type in a name and click on the OK button. Enterprise Architect adds the new package subordinate to the package you selected.
Add a Diagram To a Package
Now add a diagram.
Additional Information
For additional information on packages, and adding packages and Views (top-level packages), see the Packages, Add a Package and Add Views topics.
The material ("material" includes all pages, documents and on-line graphics) on this web site is protected by copyright law. (C) 1998-2010 Sparx Systems Pty Ltd.