Using the Image Manager
The Image Manager dialog enables you to insert alternative images in diagrams, rather than inserting standard UML elements. For example, you might want to place a custom background image on a diagram, or display a custom image such as a Router or PC on a UML element.
Notes:
For elements with lifelines, such as those used on Sequence diagrams, the Lifeline must remain intact to enable messages to be created between the elements. Therefore such elements cannot have alternative images.

In the Corporate, Business and Software Engineering, Systems Engineering and Ultimate editions of Enterprise Architect, if security is enabled you must have

Configure Images

permission to configure alternative element images.
To display the Image Manager dialog, either:
Right-click on the element within the diagram and, from the context menu, select the

Appearance | Select Alternate Image

option, or

Select the element in the diagram and press

[Ctrl]+[Shift]+[W]

.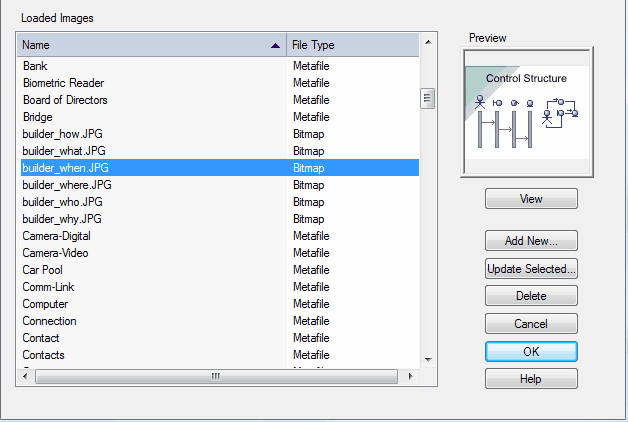 To locate and display an image, click on individual image filenames, or press [#] and [$] to scroll through the list of images. As you highlight each image filename, the Preview panel changes to reflect the image. Double-click on the required image filename to display the image in full size.
On the Image Manager dialog, the following buttons are available:
Option & Function Keys

Use to

View [Alt]+[V]

Display the selected image in full size.

Add New [Alt]+[A]

Browse appropriate directories to search for and import new images.

You can import images in .BMP, .PNG, .EMF, .WMF, .TGA, .PCX or .JPG format. Internally, Enterprise Architect stores the images in .PNG or metafile format to conserve space.

Update Selected [Alt]+[U]

Refresh the selected image; for example, after it has been modified.

Delete [Alt]+[D]

Delete the selected image.

A message displays to indicate how many elements use the image. Click on the Continue button to delete information about the image from those elements, which then revert to their previous appearance.

Close

Close the Image Manager dialog.

OK [Alt]+[O]

Confirm selection of the alternative image for the element selected in the diagram.
The material ("material" includes all pages, documents and on-line graphics) on this web site is protected by copyright law. (C) 1998-2010 Sparx Systems Pty Ltd.