Constraint Types
The Constraint tab of the General Types dialog enables you to define constraints. These are picked up in a variety of places where constraints might fall into more categories than the basic (default) Pre-, Post- and Invariant conditions.
To access this dialog, select the Settings | General Types menu option. Click on the Constraint tab.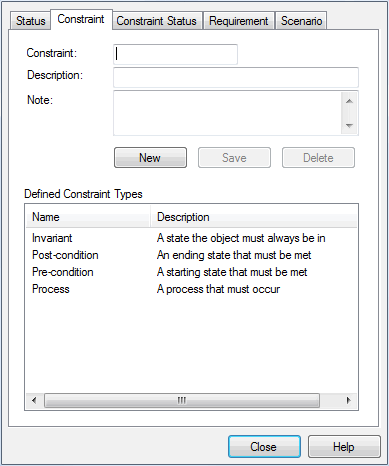 To add a new constraint, click on the New button and:
In the

Constraint

field, type the name of the constraint; for example,

Assumption

In the

Description

field, type a brief description of the constraint

In the

Note

field type any additional information required

Click on the

Save

button.
The constraint displays in the Defined Constraint Types list.
The material ("material" includes all pages, documents and on-line graphics) on this web site is protected by copyright law. (C) 1998-2010 Sparx Systems Pty Ltd.