User Interface Group
The User Interface group enables you to create graphical user interface diagrams.
A Package is a namespace as well as an element that can be contained in other packages' namespaces.

A Screen element represents a graphical user interface. You can place GUI elements onto the screen element.

UI Control elements are placed onto the screen element to build up a graphical user interface diagram. There are different stereotyped elements such as buttons and combo boxes.

An Object is an instance of a Class.

To add an element to the current diagram, click on the required icon, and drag it into position on the diagram. Set an element name and other properties as prompted.

To add a relationship, click on the required icon, then click on the start element in the diagram and drag to the end element.
The following diagram illustrates the GUI elements from the Toolbox, within a Screen element.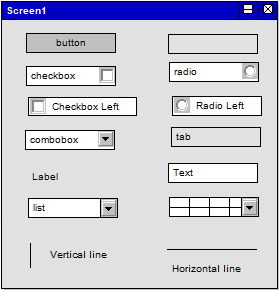 The material ("material" includes all pages, documents and on-line graphics) on this web site is protected by copyright law. (C) 1998-2010 Sparx Systems Pty Ltd.