Action Pin

An Action Pin is used to define the data values passed out of and into an Action. An input pin provides values to the Action, whereas an output pin contains the results from that Action.
Action Pins are used below to connect two Actions:

See UML Superstructure Specification, v2.1.1, Figure 12.110, p. 391.
Action Pins can be further characterized as defining exception parameters, streams, or states. Associating a state with a Pin defines the state of input or output values. For instance, the Pin could be called Orders, but the state could be Validated or Canceled.
To add an Action Pin to an Action, right-click on the Action to display the context menu and select the Embedded Elements | Add Action Pin menu option. (You can also assign Action Pins, to define specific properties of the Action.)
The Properties dialog of an Action Pin has a Pin tab on which you define the specific actions of the Pin.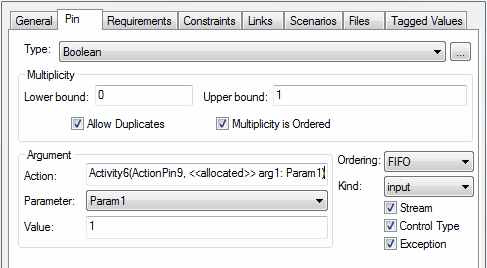 A Pin serves as an argument for Call Behavior Actions and Call Operation Actions. When an Action is associated with a valid behavior in the model, the associated behavior's parameters are listed in the Parameter field drop-down list to facilitate a one-to-one mapping between the argument and the parameter. The fields in the Argument panel are enabled only for Pins belonging to Call Actions, and only when the Action is associated with a valid behavior with valid parameters.
You can also change certain properties of an Action Pin on the Custom Properties dialog: right-click on the Pin and select the Advanced | Custom Properties context menu option. The following properties can be set:

The material ("material" includes all pages, documents and on-line graphics) on this web site is protected by copyright law. (C) 1998-2010 Sparx Systems Pty Ltd.