Component Diagram
A Component diagram illustrates the pieces of software, embedded controllers and such that make up a system, and their organization and dependencies. A Component diagram has a higher level of abstraction than a Class diagram; usually a component is implemented by one or more Classes (or Objects) at runtime. They are building blocks, built up so that eventually a component can encompass a large portion of a system.
Example Diagram
The following diagram demonstrates some components and their inter-relationships. Assembly connectors connect the provided interfaces supplied by Product and Customer to the required interfaces specified by Order. A Dependency relationship maps a customer's associated account details to the required interface Payment, indicated by Order.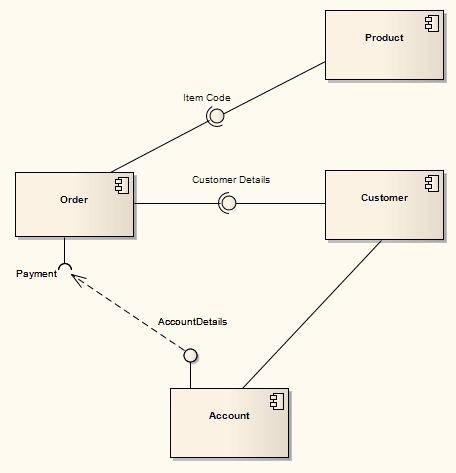 Toolbox Elements and Connectors
Select Component diagram elements and connectors from the Component pages of the Toolbox.
Tip:
Click on the following elements and connectors for more information.
The material ("material" includes all pages, documents and on-line graphics) on this web site is protected by copyright law. (C) 1998-2010 Sparx Systems Pty Ltd.