Introducing the Visual Execution Analyzer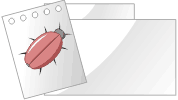 With the Visual Execution Analyzer, you can create and store custom scripts that specify how to build, test, run and deploy code associated with a package. You can investigate and manipulate the output of the debug process. The Analyzer also includes an Execution Profiler, which enables you to determine how the functions in an application are called and executed.
You access the Visual Execution Analyzer using the Project | Execution Analyzer menu option, or the context menu of the required package in the Project Browser. These menus provide a number of options to facilitate debugging, such as setting recording options or breakpoints.
The Visual Execution Analyzer can be used to:
Optimize existing system resources and understand resource allocation

Ensure that the system is following the rules as designed

Produce high quality documentation that more accurately reflects system behavior

Understand how and why systems work

Train new employees in the structure and function of a system

Provide a comprehensive understanding of how existing code works

Identify costly or unnecessary function calls

Illustrate interactions, data structures and important relationships within a system

Trace problems to a specific line of code, system interaction or event

Visualize why a sequence of events is important

Establish the sequence of events that occur immediately prior to system failure.
The material ("material" includes all pages, documents and on-line graphics) on this web site is protected by copyright law. (C) 1998-2010 Sparx Systems Pty Ltd.