Advanced Settings
Some elements support additional attributes. These are Generalizable elements; click on the Advanced button on the element Properties dialog to set:
IsRoot

- the element is a root element and cannot be descended from another

IsLeaf

- the element is

final

and cannot be a parent for other elements

IsSpecification

- the element is a specification

IsActive

- the element is active; for example, an Active Class

Multiplicity

- the number of instances of the element that can exist. The value displays on the element in a diagram, in the

Name

compartment. Use the format defined in the

Cardinality

tab.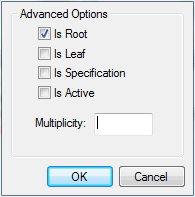 The material ("material" includes all pages, documents and on-line graphics) on this web site is protected by copyright law. (C) 1998-2010 Sparx Systems Pty Ltd.