Project Clients
Project clients are the eventual owners of the software system.
To capture client details associated with the current model, select the Settings | People menu option and, on the People dialog, click on the Project Clients tab.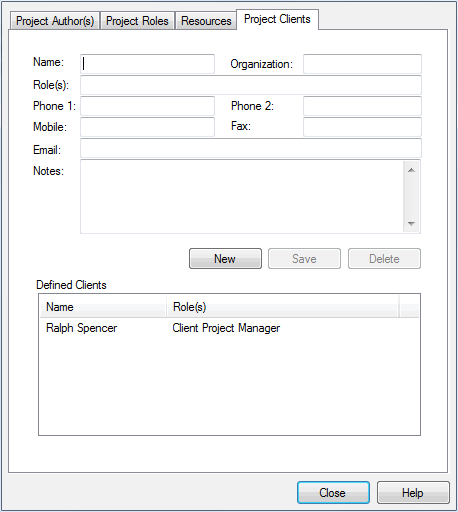 Complete the fields as described below:
| | |
| --- | --- |
| Option | Use to |
| Name | Type the name of the client. |
| Organization | Type the name of the organization that employs the client. |
| Role(s) | Type the role the client plays in the project (for example, Manager, Sponsor). |
| Phone 1, Phone 2, Mobile, Fax | Type the contact telephone numbers for the client. |
| Email | Type the email address of the client. |
| Notes | Type additional notes on the client. |
| Defined Clients | Review clients that have already been defined. |
Click on the Save button to add the new client to the Defined Clients list.
To add details of further clients, click on the New button.
To delete a client record, click on the name in the Defined Clients list and click on the Delete button.
The material ("material" includes all pages, documents and on-line graphics) on this web site is protected by copyright law. (C) 1998-2010 Sparx Systems Pty Ltd.