Set Element Parent
You can manually set an element's parent or an interface it realizes, using the Type Hierarchy dialog.
To set the element parent, follow the steps below:
Select a generalizable element in a diagram.

Select the

Element | Advanced | Set Parents and Interfaces

menu option. Alternatively:
Press

[Ctrl]+[I]

or

Right-click and select the

Advanced | Parent

context menu option.
The Set Parents and Interfaces dialog displays.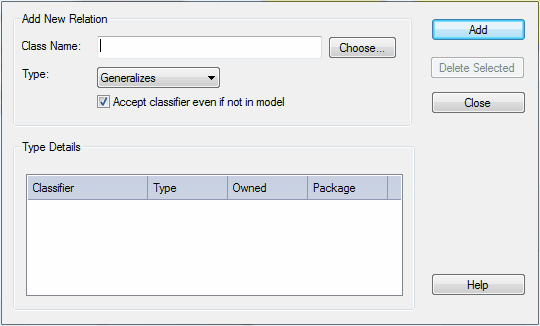 You can elect to enter a parent or interface name by either manually typing it in, or clicking on the

Choose

button to locate the element within the current model.

Set the

Type

of relationship (

Implements

or

Generalizes

) from the drop-down list.

Click on the

Add

button to add the relationship.

Click on the

Delete Selected

button to remove the current selected relationship.
Note:
If Parents are not in the same diagram as their corresponding related element, the parentage is shown in the top right corner of the child element, as shown below:

The material ("material" includes all pages, documents and on-line graphics) on this web site is protected by copyright law. (C) 1998-2010 Sparx Systems Pty Ltd.