Analysis Stereotypes
Enterprise Architect has some built in stereotypes that you can assign to an element during analysis. The effect of these stereotypes is to display a different icon from the normal element icon, providing a visual key to the element purpose. The Robustness diagram below illustrates the main types of inbuilt icons for elements: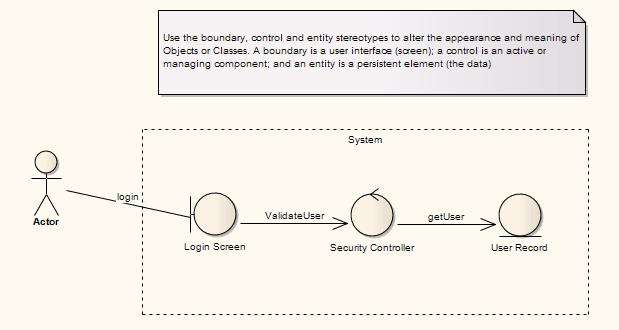 The stereotypes used are:
Boundary - for a system boundary (for example, a Login screen)
Control - to specify an element is a controller of some process (as in the Model-View-Controller pattern)
Entity - the element is a persistent or data element
Also see the Business Modeling elements, used in Business Modeling and Business Interaction diagrams.
The material ("material" includes all pages, documents and on-line graphics) on this web site is protected by copyright law. (C) 1998-2010 Sparx Systems Pty Ltd.