Web Stereotypes
Enterprise Architect supports a number of stereotypes for web page modeling, the graphical elements for which display with a graphical icon instead of the usual «stereotype» format. These stereotypes are only supported for Class elements. The image below indicates the various graphical icons and their associated stereotypes.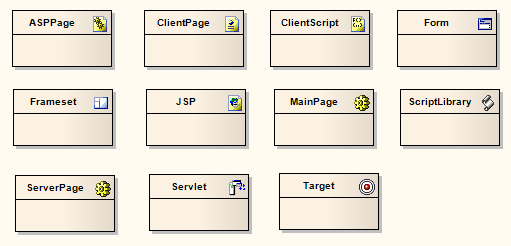 A similar set of web modeling elements and their relationships are also available through dedicated Web Modeling pages in the Toolbox.
Set a Web Icon
To set a web icon, follow the steps below:
Create a new Class element in a diagram.

Display the Class

Properties

dialog.

In the

Stereotype

field, either type in the required stereotype name or click on the drop-down arrow and select the required stereotype (as named above).

Click on the

OK

button. The Class displays as in one of the examples above.
The material ("material" includes all pages, documents and on-line graphics) on this web site is protected by copyright law. (C) 1998-2010 Sparx Systems Pty Ltd.